K-12 Operators Expand from Cafeterias to Catering
August 2019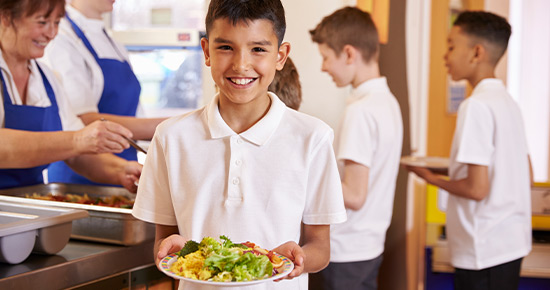 K-12 operators are boosting revenue by catering school-related events. Staff meetings, sports team celebrations and graduation parties create ample opportunities to go beyond school lunch and serve the wider community. Catering benefits the school more than bringing in outside vendors. Plus, keeping the profits within the district reassures staff and students that they're supporting their community.
One of the advantages of dipping into catering is that special occasions are already built into the school calendar. Some events, such as sports banquets or senior picnics, repeat yearly, providing dependable business and a smoother execution. Not only does practice make perfect when it comes to recurring celebrations, but cafeteria staff can also plan well in advance. Maintaining records—such as invoices, catering worksheets and previous menus—in addition to writing down observations makes it easier to prepare for the next round. Taking pictures also provides a blueprint while doubling as marketing content for social media.
The catering opportunities are there—it's a matter of letting the community know this service is available. Emailing faculty and parents and leaving flyers in mailboxes across the school district are a few ways to get the word out. On-premise advertising can also spread awareness. When visitors come by for back-to-school nights, holiday celebrations or spring festivities, posting an updated menu or special catering deals may catch their eyes. Of course, word of mouth and social media are powerful promotional tools within communities where members interact on a daily basis.
Catering calls for collaboration and flexibility, especially with the menu. Tastes and trends are constantly evolving, and a good service balances crowd favorites with new choices. For districts such as Belmont Public Schools in Massachusetts, the menu serves as a starting point. Belmont's catering guide expresses a willingness to accommodate special requests beyond its various breakfast and lunch packages with premium sandwiches, salads and more. Try serving this Sunny Cranberry Turkey Sandwich or a zesty Asian Turkey Salad at your school to offer students delightful tartness. Catering is also an excellent way to flex creative muscles with unique formats, which Hillsboro School District in Oregon offers through its sandwich buffet, bento bar and taco bar. Consider adding more novelty with these Jerk Turkey Street Tacos, a fusion of Caribbean and Mexican influences.
K-12 operators are familiar with student preferences, which is important knowledge in making catering a success. While it may feel tempting to err on the side of caution, school operators can use these events to experiment with new trends and see what students enjoy before incorporating it into the school day. By catering to the wider community, operators can gain feedback that helps improve the quality of their services while supporting their schools.
Has your school branched out into catering? Share your experiences with us on Facebook or LinkedIn. To find more recipe inspiration, be sure to browse our Culinary Center.
SOURCES
Fitzpatrick, Tara. A K-12 director's 10 commandments of catering, Food Management, February 2019.
Catering Guide, Belmont Public Schools, 2019.
Catering Menu, Hillsboro School District, 2019.