It's a Match: Top Flavor Combinations
January 2020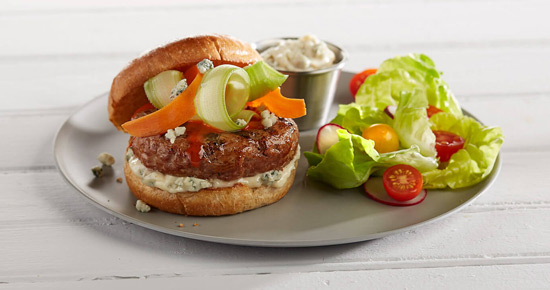 Diners crave new and exciting tastes, and one way to achieve this is by experimenting with different mashups. More than 40% of young consumers want restaurants to offer dishes that feature a medley of flavors. They're especially drawn to pairings that have a kick, as spicy combinations are appearing across the menu from main dishes to desserts.
Here are some of the top flavor combinations:
Savory and Spicy
Technomic reports that 49% of consumers find a savory-and-spicy mix appealing. To serve this crowd-pleaser, consider this Buffalo Turkey Burger featuring a seasoned, ground turkey patty garnished with blue cheese mayo. The Buffalo sauce and cayenne pepper deliver the zing diners demand.
Smoky and Spicy
Smoky and spicy is another combination that 49% of patrons enjoy­. Many meat-centric dishes fit this description, and this Turkey Kofta is no exception. These ground turkey skewers hit all the senses with a mix of coriander, allspice, paprika and cumin, especially when served fresh off the grill. Dial up the intensity with a heavy sprinkle of red pepper flakes.
Sweet and Spicy
Diners are also fond of hot with a saccharine flair, with 47% enjoying a sweet-and-spicy combo. This White Turkey Burger with Cranberry Chili Chutney delivers both with a fruity garnish infused with chilis, jalapeños, cranberries and raisins. It makes for a well-balanced entrée thanks to the soothing layer of sweetness and bold notes of spice.
Sweet and Savory
While many diners love fired-up dishes, there are plenty who prefer something sweet. More than 50% of consumers find a sweet-and-savory mix appealing. With a Middle Eastern influence, this Moroccan-Spiced Turkey Salad Sandwich covers the spectrum of flavors. Honey and dried apricots blended in Greek yogurt lend a syrupy touch to roasted turkey breast on rye.
Sweet and Tangy
Because 46% of consumers are fond of a sweet-and-tangy blend, it's worth exploring the possibilities of this dynamic duo. Try menuing this Kung Pao Turkey Salad for a health-conscious item that still packs a punch. The citrus splash of house made Kung Pao dressing harmonizes with the bitterness of bok choy or napa cabbage.
New Takes
Classic flavor combinations are inspiring unfamiliar applications, too. Peanut butter and jelly are a tried-and-true mix, but chefs are taking this flavor to a new place: cereal. Other unconventional recipes coming out of the kitchen are Sprinkles' Hot Cheetos Cupcake; Tim Horton's Spicy Buffalo Latte, as well as cheese tea, which originated in Asia; and the Japanese-favorite potato chips with strawberry and chocolate.
Looking Ahead
The next big hit, however, is expected to be sweet and umami. Some examples of this blend are cheese-and-caramel popcorn and apple pie with cheddar cheese. In Portland, Oregon, adventurous foodies can try ice cream that combines fish sauce caramel with palm sugar. Even major chains are experimenting with this bold pairing, as Longhorn Steakhouse offered a steak and bourbon ice cream LTO.
Adding unexpected and traditional combinations is one way to appeal to all crowds. Without alienating any audiences, operators can deliver on-trend fusions and push the culinary envelope. Creativity and dimension, after all, are essential in attracting and maintaining consumer interest.
What flavor mashups does your menu offer? Give us the scoop on Facebook or LinkedIn. For more recipe ideas, make sure to peruse our Culinary Center.
SOURCES
3 Menu Innovation Tips Consumers Will Melt For, Restaurant Business Online, July 2019.
Flavor Combinations: The Tried, the True, and the Unexpected, FONA International, May 2019.
Technomic Flavor Consumer Trend Report, 2019.
Watrous, Monica. AI forecasts what we'll be eating in 2021, Supermarket Perimeter, October 2019.