How Gen Z Will Change Foodservice: Takeaways from Technomic's 2019 Foodservice Planning Program
July 2019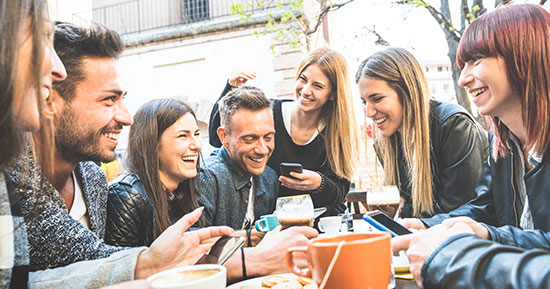 In June, Technomic's 2019 Foodservice Planning Program delivered three studies that revealed strategies and recommendations across the industry. One particularly interesting session focused on Gen Zers and the ways in which their expectations and values will require foodservice to evolve.
So, who makes up Generation Z? They're those born between 1993 and 2006 and account for 20% of the U.S. population. Dubbed the "we" generation, this group is more than just millennials 2.0. Gen Zers are expected to change the face of foodservice, and their spending power already totals $143 billion per year. As this group gets closer to reaching its peak food-away-from-home spending, operators would be wise to turn their attention to Gen Z's unique needs.
To better meet the preferences of this generation's consumers, it's important to understand key characteristics that inform their dining-out behaviors:
They're empowered. Gen Zers have access to more information and options than past generations. They aren't afraid to voice their needs and leave feedback. Consider how to listen to their input, and be open to two-way conversations. If they feel that their comments matter, their customer loyalty can be stronger.
They're pragmatic. This generation deals with things sensibly and realistically, forgoing theoretical considerations in favor of practical ones and basing opinions on research. What this means for restaurant operators is that their online presence, from customer reviews to social media usage, is increasingly important as it contributes to Gen Z's dining decisions.
They're global citizens. Technology enables Gen Zers to source the opinions of peers and influencers from around the world. This exposure to variety and new perspectives encourages them to look for more familiar items with a twist. Operators can take advantage of these cravings for fusion by rethinking ethnic cuisine.
They're digital natives. To members of this generation, getting their first smartphone is the emotional equivalent of obtaining their driver's license. They highly value the freedom to explore and express themselves. Technology not only provides endless choices but also empowers them to get what they seek. In addition, while past generations may have accepted merely settling for the food options available to them, Gen Z uses technology to articulate needs and find immediate solutions.
They're more social than expected. It's easy to assume that Gen Zers do all their communication online rather than face to face, but that isn't the case. This group, particularly the youngest ones, is a strong adopter of the third place—areas outside of home, school and work. Environments such as cafés provide them with the opportunity to have adult-like experiences in a safe setting. To draw in this crowd, operators should be mindful of the social atmospheres of their restaurants.
They're health conscious. Within this demographic, there are subtle differences in the nutritional claims they prioritize. Young Zers, ages 13–17, look for health callouts of clean, scratch, natural and local. Mid Zers, ages 18–20, seek clean, natural, local and high protein. Older Zers, ages 21–25, value the labels clean, local, scratch and baked.
Gen Zers are emerging as the newest spenders and will have even more of an impact as their purchasing power increases. Operators can begin to establish a long-standing relationship with those in this demographic by taking the time to listen, observe and understand their needs in order to meet them where they are. As this generation grows older, it's exciting for restaurant operators to see how Gen Z's dining habits will shape the future of foodservice.
For more industry insights, visit our Resource Center.
SOURCE:
Generation Z: How the "We" Generation Will Force Foodservice to Evolve, Technomic, 2019.