Flavor Trends to Keep an Eye On in 2021
February 2021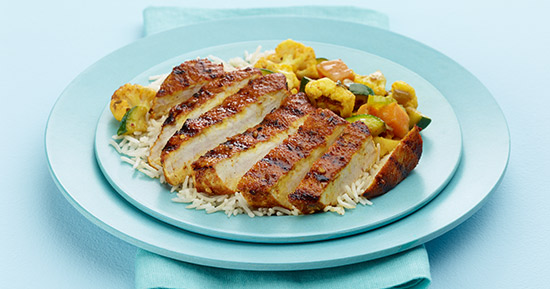 Last year taught the industry how quickly consumer behaviors can change and how swiftly operations can change right with them. As the road to recovery begins, aligning menus with the latest cravings provides opportunities to increase revenue. Below are the hottest trends to look out for in 2021.
1) Lesser-Known Global Fare
While travel remains uncertain, operators can bring international flavors to diners yearning for adventure. Turkish, North African, Caribbean and East Asian fare is on the rise. Other flavors gaining traction are Taiwanese, French, Filipino, Australian and Moroccan, according to DoorDash. Operators can tap into these trends by incorporating some of these emerging ingredients into their menus:
Dukkah: a smoky-salty Egyptian mix of ground sesame seeds, various nuts, cumin, coriander, fennel and other spices that you sprinkle on poultry. We can't wait to try it on turkey!
Jerk seasoning: a Caribbean blend of cumin, nutmeg, allspice, smoked paprika, cinnamon, garlic and hot peppers. It's great for grilling, barbeque and countless other applications, such as these Jerk Turkey Street Tacos.
Tempero baiano: an African-Portuguese-Brazilian mix of parsley, chili peppers, oregano, nutmeg bay leaves and turmeric, that's often used in soups and stews.
Berbere: an Ethiopian blend of chilies, cardamom, cinnamon, ginger, nutmeg, allspice and coriander that chefs can add while cooking or as a finishing touch.
Chili crunch: a Chinese condiment of chili flakes, garlic and sometimes sugar, vinegar or sesame seeds, that works with any kind of dish.
2) Strengthening the Immune System
"Immunity" is a key callout diners are looking for. Motivated by the pandemic, they want to strengthen their immune systems with ingredients linked to well-being, like turmeric, zinc, ginger, green tea, honey and fermented foods. Patrons may also be interested in poultry, such as turkey, as it's a functional food high in vitamin B6, a micronutrient that helps keep the immune system strong. Consider this Kimchi Turkey Burger or a turmeric-spiced Turkey Garam Masala to meet their needs.
In keeping with the focus on health, leafy greens, purple vegetables and unfamiliar citruses like Buddha's hand and calamansi are gaining more interest. Even alcoholic beverages are getting the health treatment with green-juice bases.
3) Familiar and Comforting Foods
Customers are revisiting their love of Italian, Mexican and Chinese cuisine, as nearly a third of Americans have ordered them in phases 1 and 2 of the pandemic, and more than 80% have tried and liked them. While Italian, Mexican and Chinese fare is international, they're still mainstream and recognizable. This familiarity is a recurring theme—comfort and nostalgic food are in heavy rotation now that families are eating dinner together more frequently. Offering brands that diners grew up with can add a sentimental touch to these meals and connect generations, many of whom have childhood memories of Butterball turkey on the table.
Following a year of big changes, operators can focus on decisions they can control, such as menu planning. Bringing in-demand trends to your operation can help you serve exciting flavors that catch the eyes and, most importantly, appetites of current and future patrons.
Which trends will you serve? We're all ears on Facebook or LinkedIn. Find more mouthwatering recipes here.
SOURCES
Baum+Whiteman predict 2021's hottest food and beverage trends in restaurant and hotels, Baum+Whiteman LLC, November 2020.
The State of Flavor in America, DoorDash, November 2020.
What's to Come in 2021, Technomic, November 2020.