Class is in Session: How Restaurants are Virtually Connecting with Diners
March 2021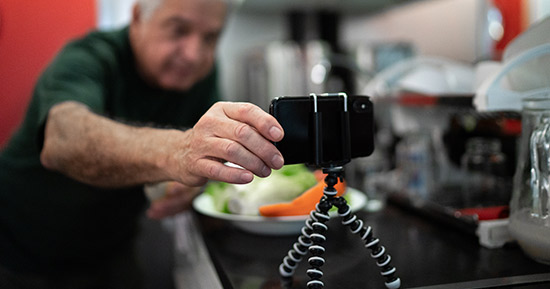 The restaurant industry was one of the hardest hit sectors by COVID-19. Amid this harsh reality, some operators found opportunities to protect their bottom line and safely interact with diners again, though not in a way you might expect. Many have begun offering online cooking classes to encourage sales and provide a unique way to engage with customers at home.
In Montreal, Menu Extra's "Chefs en Direct" was born out of chefs' longing to connect with guests during lockdown. It's a cooking class held on Saturday afternoons over Zoom, with a focus on cooking techniques that may seem intimidating to beginners and using local ingredients. Patrons can sign up for just the online course or the full meal deal with the supplies delivered to their doors.
Every chef has their specialty, and online cooking classes are a great way to showcase it. That's what sparked the idea behind Xiquet DL's paella classes in Washington, D.C. Kits are priced at $35, with ingredients for an hour-long, virtual class that's also recorded for people who can't tune in on the same day. The team behind the production includes a camera operator, class moderator and staff members who deliver ingredients. Each class features a maximum of 30 participants and generates between $600-$800 in revenue. Northwest of D.C., Red Bandana Bakery, a gluten-free bakery in Bethesda, MD, moved its cake decorating classes online. Their DIY kits are available to buy ahead of classes, and the bakery has since expanded their tutorials to bagels, sugar cookies and cake pops.
Virtual classes are also an opportunity to expand your consumer base. Immigrant Food was a new fast-casual restaurant that hadn't had the chance to build those connections when restaurants were ordered to close. So they organized virtual events, beginning a series called Friday Authentic Immigrant Dinners. Staff members, who each hail from a different part of the world, cook a traditional dish from their country. After much success, Immigrant Food continued in this direction with cooking kits and live streaming classes on Instagram. The kits are $15 to keep in line with menu prices.
These classes are also a way to give back to the community. Hudson Valley Eats hosted a fundraising event called "Cooking for a Cause" to help several nonprofits in its area provide food to residents in need. Tickets were $50, with all proceeds going to the nonprofit partnered with the class. Participants received a shopping list for ingredients in advance and a Zoom link for the live cooking show. They could choose to cook along with the chef or simply watch. At any point, participants could ask the chef questions.
Other ways chefs have reached their patrons throughout the pandemic include meal kits, focusing solely on delivery and maintaining open communication. It's during times like these when operators can inspire one another the most.
Does your operation offer online cooking classes? Tell us how they're going on Facebook or LinkedIn. Explore our Resource Center for more foodservice insights and strategies.
SOURCES
Cirruzzo, Chelsea. Are Local Chefs Turning a Profit from Their Online Cooking Classes?, Washington City Paper, August 2020.
Cooking for a Cause raises money for local non-profits, Hudson Valley One, January 2021.
Lerner-Frank, Ivy. Prominent Montreal Chefs Turn to Zoom Cooking Classes to Connect With Diners From a Distance, Eater Montreal, January 2021.