Turkey Thigh Roast
Brand:
Product #: 22655 89204
Category: Specialty Products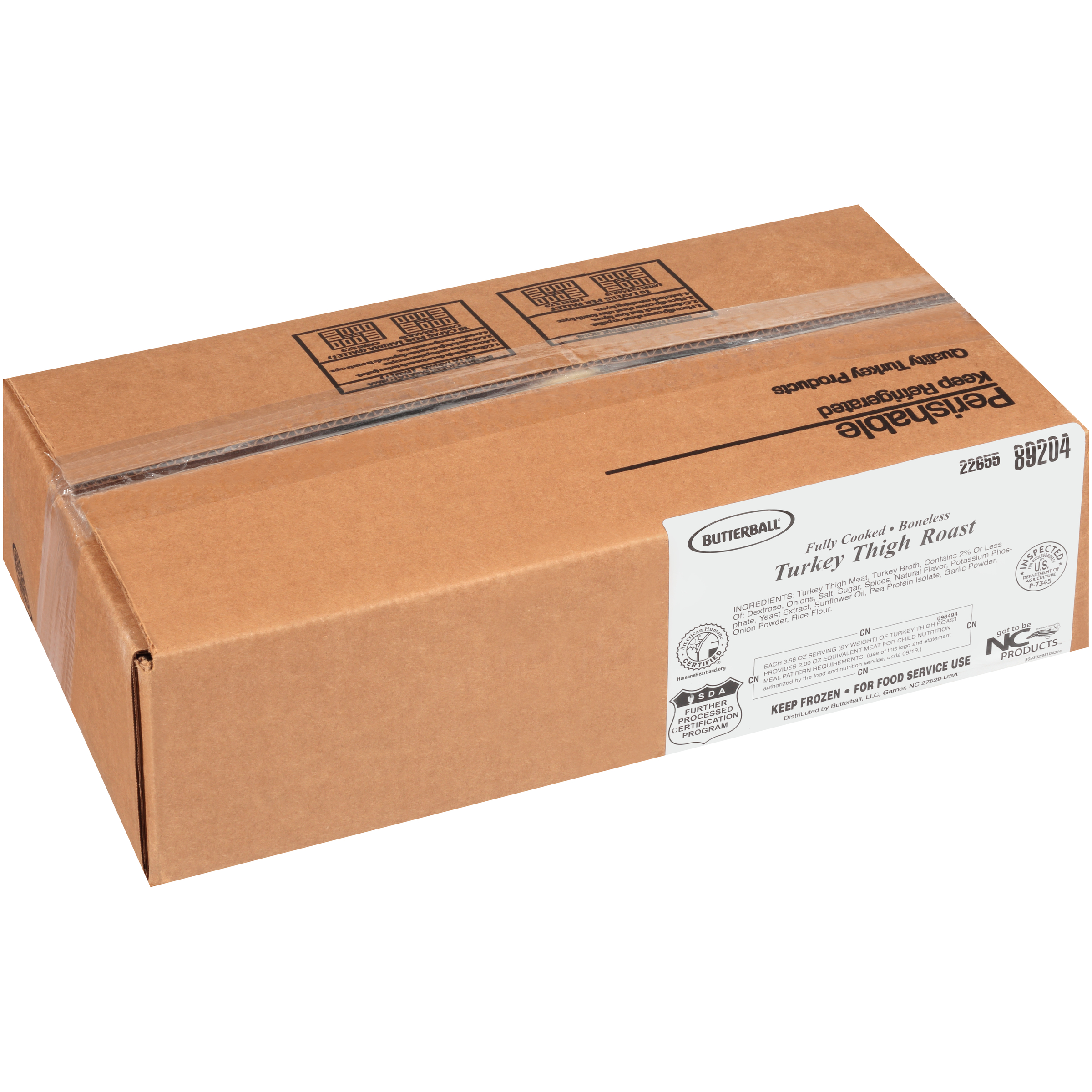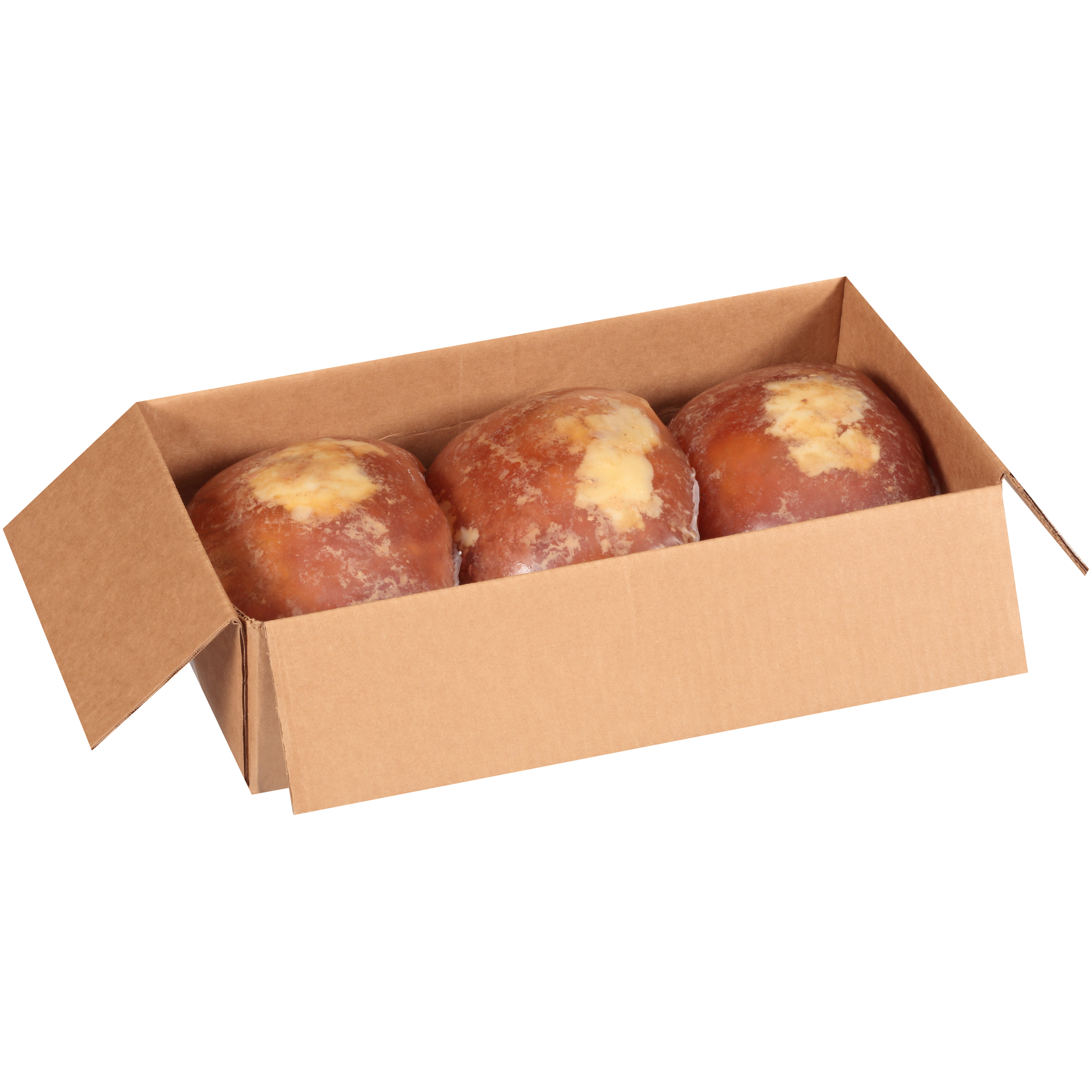 Nutrition Facts
Serving Size
3.58 OZ (102 g)
Vitamin A 0%
Vitamin C 0%
Calcium 0%
Iron 0%
*Percent Daily Values are based on a 2,000 calorie diet. Your daily values may be higher or lower depending on your calorie needs.
Ingredients
Turkey Thigh Meat, Turkey Broth, Contains 2% Or Less of: Dextrose, Onions, Salt, Sugar, Spices, Natural Flavor, Potassium Phosphate, Yeast Extract, Sunflower Oil, Pea Protein Isolate, Garlic Powder, Onion Powder, Rice Flour Contains No Allergens.
Turkey Thigh Roast
Brand:
Product #: 22655 89204
Category: Specialty Products
Product Description
Premium Fully Cooked Turkey Thigh Roast; approximately 6 Pounds Per Piece; Sold Frozen; Shelf Life Frozen 548 Days from Pack; format MM/DD/YY; this is a catch weight item; Commodity Code: 100124D
Features & Benefits
Made from premium thigh meat, this turkey thigh roast is fully cooked and can be sliced, diced, or shredded. Perfect for turkey BBQ, tacos and a variety of menu applications. A very versatile product with endless possibilities for grab-n-go. Butterball turkeys are hatched, raised and harvested in the USA, with high standards of animal care and well-being carrying the American Humane Certification.
Packaging Details
GTIN
90022655892048
Item UPC
022655892045
Unit Quantity
3
Unit Size
6 LB
Pallet Tie
10
Pallet High
10
Case Net Weight
18 LB
Case Gross Weight
19.8 LB
Case Length
18.625 IN
Case Width
9.875 IN
Case Height
5.5 IN
Case Cube (feet)
0.585
Preparation & Cooking Instructions
HANDLING: 1) Receive and store turkey thigh roast in a frozen state until ready to use. 2) Follow proper thawing instructions prior to cooking. PREPARATION: 1) Thaw cooked turkey thigh roast in refrigerator for at least 48 hours. Thaw on a tray, out of the box. 2) Preheat oven (convection oven) to 325-350 degrees F. 3) Remove the outer cooking bag from the turkey and empty entire contents of package into a baking pan or equivalent. There will appear to be quite a bit of free liquid; however, this should go into the pan with the meat. 4) Separating the meat by hand and dispersing evenly throughout pan prior to cooking is recommended and will reduce cook time. 5) Cover prior to placing in the oven. 6) Heat dish for about one hour (time will be longer if product was not separated) at 325-350 degrees F in convection oven. Extend time by about 45 minutes in standard oven. 7) Remove covering and continue to heat for 10-15 minutes to add color to the meat. 8) Make sure that product internal temperature is at least 145 degrees F, or above the minimum safe handling requirement for products served warm. 9) Remove dish from oven and prepare to serve. Product can be sliced, diced, or shredded for different menu applications.