*NEW* Premium Turkey Thigh Bacon 2/6# Fzn
Product Number: 22655 30320
Product Category: Turkey Bacon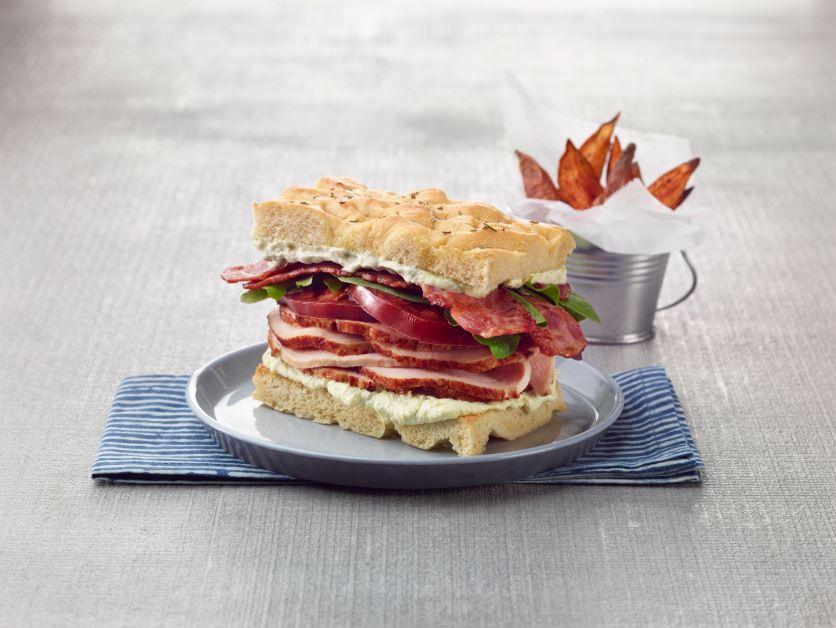 Nutrition Facts
Vitamin A 0%
Vitamin C 0%
Calcium 0%
Iron 2%
*Percent Daily Values are based on a 2,000 calorie diet. Your daily values may be higher or lower depending on your calorie needs.
Product Description
Premium, Turkey Bacon is placed in "Layout" style packaging on parchment paper, vacuum packed in 2/6 lb units for less exposure. Simply cook to your desired level of "crispness" and serve as a great alternative to pork bacon. 10 slices per sheet, approximately 170 slices per case.
Packaging Details
GTIN
90022655303209
Item UPC
022655303206
Unit Quantity
2
Unit Size
6 LB
Pallet Tie
8
Pallet High
10
Case Net Weight
12.0 LB
Case Gross Weight
13.20 LB
Case Length
19.000 IN
Case Width
10.750 IN
Case Height
5.500 IN
Case Cube (feet)
0.65 CF
Ingredients
Turkey, Water, Sugar, Sea Salt, Contains 2% or less of Potassium Lactate, Sodium Phosphate, Sodium Nitrite, Sodium Diacetate, , Sodium Erythorbate, Dextrose.
Preparation & Cooking Instructions
Flat-top Grill or Skillet: 325°/Medium Heat for 4-6 minutes turning a few times for desired crispness. Convection Oven: Cook on parchment at 350°F for 4-6 minutes or until desired crispness.
Similar Products